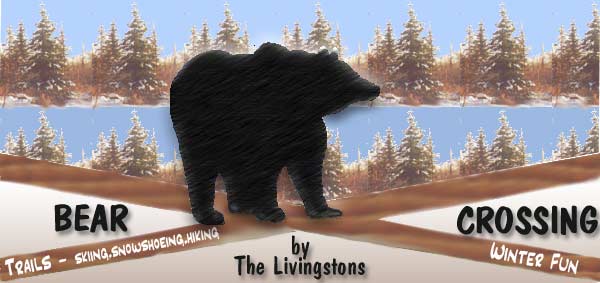 Bear Crossing Ski Trails - Medford, Wisconsin
| Introduction | Trails & Distances | Registration | Directions to Bear Crossing |
---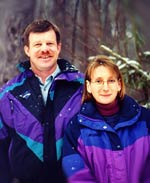 The Bear Crossing Ski Trails, are a series of cross-country trails that wind through the scenic glacial terrain of Northern Wisconsin and are owned and managed by Jim and Lori Livingston. More than four miles of well-groomed trails offer cross-country skiers, and snowshoers a wide range of outdoor opportunities and skill levels.
Bear Crossing Trails borders the Chequamegon National Forest and derives its name from the occasional sighting of black bears that cross the road adjacent to the property.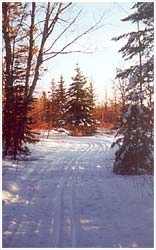 Bear Crossing Ski Trails offers 4 miles, (6.5 kilometers), of groomed cross country skiing, and snowshoeing trails through 276 acres of beautiful deep wooded forest. The property borders the Chequamegon National Forest, which provides many other recreational activities.
Unique to Bear Crossing Ski Trails is the short loop trail layout design, patterned after old logging trails. Each ski loop has a different terrain and forest type providing an ideal experience for all ages and skill levels. The flat trails that meander through the aspen stands and tag alder swamps are excellent for first time skiers or those who just prefer a leisurely ski. The delightful rolling hills of the pine, balsam, and mixed hardwood stands provide a greater challenge for those looking for a faster adventure.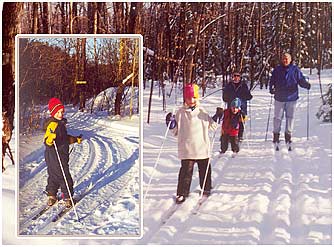 The Bear Crossing ski trails are great for all ages, young families, experienced skiers, and the elderly, due to the connecting nature of the trails. Skiers are able to match their skills, desires, and distance by determining the trails taken - ensuring an enjoyable outing for all.
The majority of the trails intertwine through heavily wooded areas providing excellent opportunities to enjoy the wildlife. The abundant wildlife activity is apparent in the snow trails of the white tail deer, snowshoe hares, ruffed grouse as they make their way though the woods and across the trails. Chickadees, nuthatches, and bluejays fill the air with their sounds and an occasional porcupine can be seen in the treetops.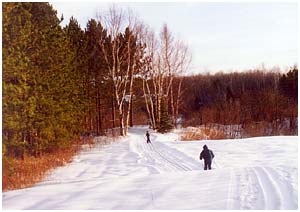 Leuthey Creek meanders through the Northern part of the Bear Crossing land. An ice and snow bridge provides a gentle glide crossing to the other side. After experiencing the splendor of a 40-year-old pine plantation and several inspiring hills, Leuthey Creek can then be crossed by two narrow wooden bridges to bring you back to the beginning or onto another adventurous trail.
Bring your own skis, poles, and boots and enjoy exploring the trails. Ski Trail hours are 7 days a week - 8AM until dusk in the late afternnoon. Call in advance for trail usage during the week.
Other information about the area can be found at the web sites of the Medford Chamber of Commerce and Focus on Taylor County.
---
Trails and Distances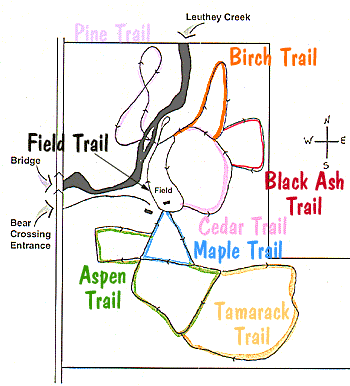 Field Trail - .5 miles
Birch Trail - .6 miles (hills)
Pine Trail - .6 miles (hills)
Cedar Trail - .6 miles (hills)
Black Ash Trail - .4 miles
Aspen Trail - .6 miles
Maple Trail - .5 miles
Tamarack Trail - .7 miles
Trail maps are provided when you arrive and register.
---
Registration Information
Since our property is currently under Forest Crop Regulations, there will be no set usage fees charged for using the trails. However, we would appreciate your donations which will help us pay for the ongoing trail maintenance and parking.
For more information, contact Jim or Lori Livingston at:
Bear Crossing Ski Trails
N4144 Division Drive
Medford, WI 54451


Phone: (715) 785-7564
E-mail: jljam@tds.net
---
Directions to Bear Crossings
The Bear Crossing ski trails are located about 11 miles from Medford, Wisconsin - located 45 miles north of Marshfield, Wisconsin, 45 miles west of Wausau, Wisconsin and 70 miles northeast of Eau Claire, Wisconsin.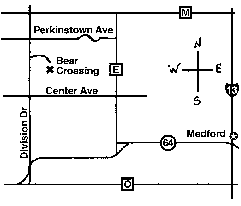 From Medford take highway 64 West 5 miles, turn North on County E for 1.5 miles, turn West on Center Ave. for 3 miles, then North on Division Drive for 1.3 miles. Entrance is on the East side of Division Drive just before the Leuthey Creek bridge. Watch for the Bear Crossing Ski Trail sign on the mailbox post.

| Introduction | Trails & Distances | Registration | Directions to Bear Crossing |
---
Jim & Lori Livingston
Bear Crossing
N4144 Division Drive
Medford, WI 54451


Phone: (715) 785-7564
E-mail: jljam@tds.net
---
This web site is copyright protected.
©2001 Jim & Lori Livingston